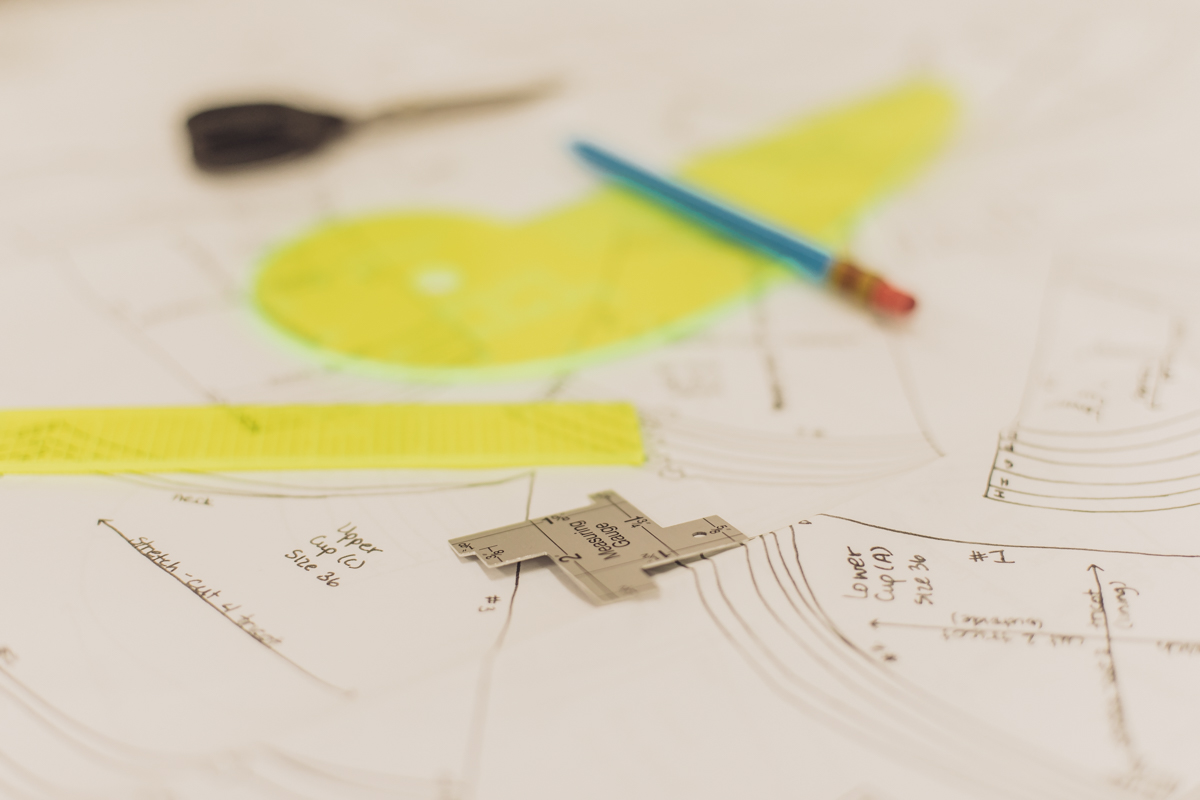 34H or I – Monica's Bravo 2 bra is the ONLY bra pattern I've ever tried that was wearable on the very first sew! It was also the first bra I could wear after shoulder surgery without pain… and now I've had two surgeries, one on each shoulder. Even though I had many years experience sewing bras and built my own patterns from scratch, I found the fitting video extremely useful and recommend it highly to newbies and veteran bra-sewers alike! She is always very responsive to fitting questions – I wish I lived closer, I would love to attend one of her bra sewing retreats. I've been buying her kits for years – excellent quality for a very reasonable price.
– L
---
I just completed my first bra and it fits perfectly. The videos are very well done and easy to follow. Thanks for all your help.
– Barbara
---
I just wanted you to know how pleased I am with your service. I placed an order on Thursday and received it at my front door in Florida on Saturday. Now that is service !! I previously purchased your 102 DVD on bra construction through one of your mom's 2day bra-making retreats in Florida. When I ordered this time, I added the bra fitting 101 DVD and am very happy to see the pattern drafting instructions in this DVD. I cannot think you enough. Both DVDs are outstanding and have answered many of my bra making questions. The technique explained are clear cut. I am finishing a new bra using some of the finer methods shown in the DVD. My good fitting bra is now awesome! Thanks again!
– Cindy  
---
My wires arrived today! Am so excited to let you know that they are very comfy even in a bra with the frame too wide. In other news, the Bravo Bra 2, in the 34 G fits almost perfectly right out of the box. She just needs a little dart at the underarm. I must say the taste of victory is sweet indeed. Many thanks for your knowledge and great service. Next will be a cloned pattern for a soft bra. Can't stop building bras even in my sleep. 
– Pica 
---
This was my first time ordering from you and I am delighted with the lace bra kit as well as the super fast shipping! Thank you!
– Toni
---
I just finished watching your DVDs. They are excellent. I am so glad that I purchased them, so I can go back as needed for your detailed instruction. You are such a good teacher! Thank you for recording them. 

– Beckye 
---
I checked the mailbox and it was there – thanks. Was hoping to save you a little shipping. I cut my new bra pattern as we discussed at Expo. Looking forward to shorter work hours once tax season is over so I can get back into the sewing room! Will let you know how it turns out. 
Thanks for being such a terrific resource! ​What beautiful colors. I'm really looking forward to having some beautiful undergarments! 
– Rhonda 
---
Thank you! I received the extra yard of tricot and the new (pink) bra kit that I ordered today, and noticed that you included a bit of sheer tricot in the bra kit. I am more grateful than even makes sense. :) Bra making is proving to be a bit of a challenge for me (getting the fit right) and that little bit of personal service, really touched my heart. Thank you for that bit of encouragement. (It is funny what lightens the heart, isn't it). I already was a fan of your store, but you may have made a customer for life. 
Sincerely, 
– Jeanette
---
 I just want to say thank you for all of your great work! I made a pair of undies last night and I'm so happy. I have a latex sensitivity that has kept me from having "cute" panties for over 10 years. Thanks to Bravo Bella, I can have lacy underthings again! 
– Lara 
---
I just finished the Bravo 2. It fits great. I look years younger just putting it on. Thank you so much. 
– Joi